Harvest Moon: One World – Everything We Know So Far
Harvest Moon: One World is the latest title from Natsume Inc, the folks behind many great titles in the Harvest Moon series all the way back to the Nintendo DS days. Since we were only a month and a bit from release, we thought it would be a good idea to try to answer some questions you might have so far and compile them into the ultimate Harvest Moon: One World resource.
While there's not much info out about the game yet, this article should certainly fill you in on what has been released so far so you're ready for more news on the title over the next few weeks.
What we do know about Harvest Moon: One World's gameplay?
While it retains the core focus on farming as found in previous games, this new game hopes to expand the original concept with a new focus on adventure.
Farming: Hoe, plant, water, and harvest your crops.
New areas to adventure: Beaches, forests, the arctic, and more.
Romance: 5 male and 5 female options.
Expand-o-farm: You can pack up your farm instantly to move it to a new area.
Take care of animals: traditional options such as chickens, sheep, and cows as well as new animals to discover including camels, bears, and tigers.
More activities: Glimpses of mining and fishing are shown in the trailer.
Unlock new seeds with harvest wisps: It looks like you'll need to go exploring to find new sees around the map which should make adventuring extra rewarding.
Social/Local Activities: While the game is single player, it looks like you'll be able to interact with local townspeople and participate in local "festivals".
When was Harvest Moon: One World revealed?
Harvest Moon: One World was announced as a press release on the publisher's website on May 12th last year. You can read the press release here.
What is Harvest Moon: One World's US release date?
According to this amazon.com listing, Harvest Moon: One World will be releasing on the 2nd of March in the US. This is a little earlier than the rest of the world.
What is Harvest Moon: One World's UK & European release date?
Harvest Moon: One World will be releasing on the 5th of March according to the UK eShop page and confirmed by the French page. Obviously, it's annoying that we have to wait an extra 3 days to get the game, but hopefully it means we will be receiving a cleaner version of the game which the Americans have kindly bug tested for us. If you really want to get the game on the US release date, you can always set up accounts for different regions (See Nintendo Link's tutorial in how to do so).
What Harvest Moon: One World trailers and images have been released?
There are four images of gameplay available on all the game's store pages: 2 of them depict conversations, one shows planting crops, and another shows the player riding a moose… or maybe a deer? I'm not an expert.
The images are gently strewn throughout this article. There's also one trailer so far which was released on the Natsume YouTube channel at the end of last year. The 1 minute 20 second video gives some pretty juicy hints as to what we will be getting in terms of gameplay.
Is there a Harvest Moon: One World collector's edition?
Yup! The collector's edition will be distributed (exclusively as far as I can tell) by Limited Run Games on their website. The collector's edition includes two extra physical items: a super cute chicken plushie as well as a musical diorama featuring a barn, some characters, and some farm animals.
The diorama plays the tune "Spring on the Beach" which is an original new piece from the Harvest Moon: One World sound track. The plushie is roughly 5 by 5 by 5 inches while the diorama is a bit bigger with an 8 inch diameter and a just under 5 inch height. Sounds pretty good? Well the $99.99 (~£75) price point sadly reflects that.
When do pre-orders open for Harvest Moon: One World?
Pre-orders for Harvest Moon: One World are already open! The pre-orders opened back on January 3rd. You can read about that in this The Gamer article, and they are expected to close on March 2nd in the US and March 5th in the UK.
What pre-order bonuses are there for Harvest Moon: One World?
While there is already some pretty awesome extras that come with the collector's edition, if you are on a budget you can always pick up the standard version of the game on the Nintendo website for only £39.99, so just under half the price of the collector's edition. Luckily for you, if you preorder the standard edition you'll get two awesome bonus items. Firstly, you'll get a Harvest Moon: One World chicken keyring as well as a sticker sheet featuring a couple of characters and loads of super cute animals.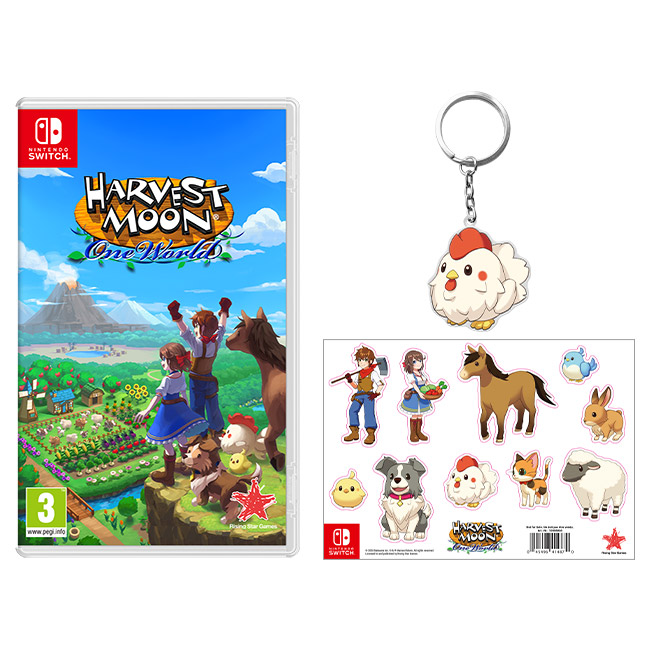 While it looks like Harvest Moon may just be a lower budget version of last year's Animal Crossing: New Horizons, it's definitely a title I plan on picking up. I'm especially excited for the addition of adventuring and the fun of searching for seeds. Let me know if you plan on picking up Harvest Moon and if there's any other questions you would like me to answer down in the comments! Thank you for visiting Nintendo Link. Bye, y'all!